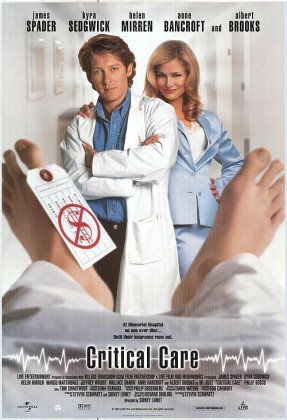 Critical Care, The Movie
Sidney Lumet (Network, Dog Day Afternoon, The Verdict) and producer/writer Steven Schartz adapted Richard Dooling's first novel, Critical Care, into a darkly funny (funnily dark?) medical satire starring James Spader, Kyra Sedgwick, Albert Brooks, Helen Mirren, and Anne Bancroft. If you blinked you missed it in the theaters, but it's widely available on DVD.
A.O. Scott's review of Critical Care from the New York Times.
Consult the Internet Movie Database for more details on Critical Care, The Movie