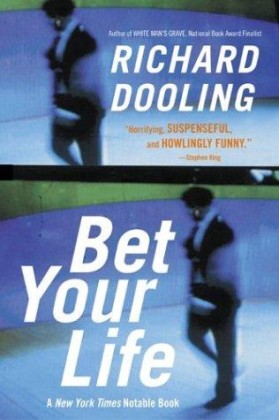 A Novel by Richard Dooling
New York Times Notable Book of 2002
Read the first chapter of Bet Your Life at the New York Times site.
Set in Omaha, Nebraska, the author's hometown, Bet Your Life turns the death of Lenny Stillmach–a young insurance investigator, a scam buster who may have been a scam artist himself–into a sexy, techno-literary exploration of fraud, murder, and the mysteries of the human soul.
Bet Your Life is an homage to James M. Cain
–The Postman Always Rings Twice and Double Indemnity–classic insurance-murder mysteries bound up with love stories.
Review Excerpts For Bet Your Life
"A Techno Update for a femme fatale and a fall guy," Janet Maslin, Daily New York Times
"This is the kind of book that keeps you reading all night." Paul MacEnulty, Ft. Lauderdale Sun-Sentinel
"Nebraska noir . . ." Mark Costello, Sunday NYTimes Book Review
"Humor, wit and suspense. Dooling's Web-savvy characters are startlingly realistic: They shock, amuse, frustrate and refuse to behave. His descriptions are breathtaking and crystal-clear." Marc Flores, USA Today