Short Fiction by Richard Dooling
Diary Of An Immortal Man was a cover story for Esquire Magazine and was nominated for a National Magazine Award. The full text appears online at Kurzweil AI.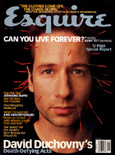 Diary Of An Immortal Man is kinky science fiction and black comedy, inspired in part by Ray Kurzweil's tremendous book, The Age Of Spiritual Machines; both speculate about what the future holds for us and our biotech lust for immortality.