What's another word for thesaurus?
–Steven Wright
Word Mania
Are you just plain sick of a word, like "empowerment," or an expression, like the vaguely obscene "bottom line"? Do you wish they'd just go away? You can nominate them for banishment at The Banished Words List.
Try a new add-in dictionary if you're sick of Microsoft's. WordWeb Pro, is an English dictionary, thesaurus, and word finder. This program is a powerful, cheap, stand-alone dictionary and thesaurus, but you can also add new words, make your own glossaries, let it cross-reference the dictionaries already installed on your PC, or even teach it to cross-reference your favorite online dictionaries and thesauri. Get the Pro version–worth the $19.00, or try it for free.
A Word A Day by Anu Garg is one of the oldest sites on the internet for words. AWAD is always interesting and the best site for rare and unusual vocabulary.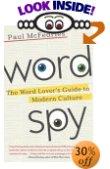 Try The Word Spy, by Paul McFedries, the web site for word lovers. This Web site and its associated mailing list are devoted to recently coined words, existing words that have enjoyed a recent renaissance, and older words that are being used in new ways.
The Word Spy also comes in book form with a blurb on the jacket from Richard Dooling: "Tired of finding dead words embalmed in dusty dictionaries? Word Spy is one of those rare books that capture words live in the wild, complete with up-to-the-minute citations and examples of usage . . . living proof that to invent a language is to invent a way of life." See the jacket and Amazon links at right to purchase.
The Word Spy also features a nice selection of quotations about words called Words About Words.
Ever had that word right on the tip of your tongue, but it just won't come? Try Reverse Lookup, a new feature of the old reliable OneLook site.
Ask Oxford is still the best all-around word-a-day and quote-a-day stop.
Another Word For Thesaurus?