Ian McEwan's Saturday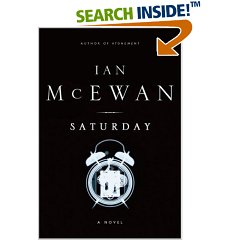 This novel examines one day in the life of Henry Perowne, a prominent and successful London neurosurgeon. While driving his new Mercedes, Perowne collides with Baxter, a street thug and victim of Huntington's chorea, whose condition makes him dangerously unpredictable: violent and sensitive by turns. Perowne can't help diagnosing Baxter, even while Baxter prepares to thrash the good doctor, and that's not the end of it.
Like Brain Storm, Saturday dramatizes the age-old question: "Is the mind anything more than the brain?"
Review of Ian McEwan's Saturday, which The New York Times selected as one of the ten best books of 2005.