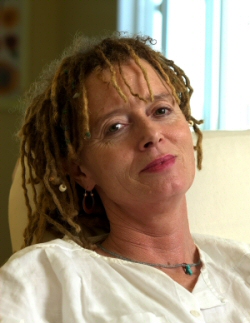 Back in early 2007, Creighton University invited author Anne Lamott to speak at the school and exacerbated an ongoing spat with the Omaha Archdiocese, which was unhappy to learn that Lamott supposedly supported assisted suicide.
Creighton University officials said they invited Anne Lamott to speak before her book Grace (Eventually): Thoughts on Faith, came out in March 2007. The book describes her personal experience in helping a friend commit suicide. By summer's end, Creighton cancelled Lamott's appearance, which had been scheduled for September 19th.
Six progressive Christian churches then raised funds and hosted Ms. Lamott's appearance in a new venue that accommodated twice as many people as the original theater where Creighton had planned to have her speak. Ms. Lamott spoke at 7:00 PM on September 19th, 2007 at the Holland Center in downtown Omaha, without incident.
For more background on Creighton vs. Anne Lamott, check Edward Champion's Return of the Reluctant site.
I wrote this piece after I read the Omaha World-Herald's story about how Creighton University had suddenly disinvited one of my favorite authors to speak.
Richard Dooling

Opinion Piece Published in the Omaha World-Herald on Wednesday, September 5th, 2007.
by Richard Dooling
After 11 years of Jesuit education (at Omaha Creighton Prep, St. Louis University, and St. Louis University Law School), which I paid for myself, I have enough Jesuit DNA to know that no Jesuit is behind the recent events at Creighton University. Author Anne Lamott was scheduled to speak at the 18th Annual Women and Health Lecture Series sponsored by the Center for Health Policy and Ethics at Creighton University Medical Center. According to a World-Herald article: "Creighton officials later withdrew their offer to Ms. Lamott, stating: 'We have decided that the key points she makes are in opposition to Catholic teaching.'"
Which tells me nothing. As any reader of Bird By Bird knows, Anne Lamott is a writer's writer. She writes about tough moral and ethical problems, about the consequences of making right and wrong decisions. She also writes surprising, insightful stories and essays about the struggle to find faith in God. At times, she reminds me of Flannery O'Connor (the preeminent Catholic novelist of the 20th century), who would probably also not be allowed to speak at Creighton University if it meant that her writings may not contain any points in opposition to Catholic teaching. Flannery O'Connor's first novel, Wise Blood, is the story of a young man who wishes to start a church without Christ. When the Catholic Church is ready to disown Flannery O'Connor, I'll know that the end of the world is coming and get ready for Revelation.
For the record, Anne Lamott had no plans to discuss abortion or assisted suicide during her talk at Creighton, and she has no plans—in fact, has made it clear—that she will not be discussing those topics on September 19th at the Holland Center.
The "official story" is that a group of Catholic doctors wrote in urging Creighton to cancel Lamott's appearance, stating that sponsoring a talk by Lamott "at best sends a confusing message to students at Creighton and to the public at large. . . . At worst, it undermines the ability of Creighton to provide clear, public witness as a Catholic university." This sounds familiar to me. It sounds like the Scribes and the Pharisees trying to trick Jesus into saying that work on the Sabbath is okay. In other words: "Let's examine every word you ever spoke or wrote and see if any of it contains heresy." Hey, this woman has committed adultery (or assisted suicide), by law she should be stoned to death, right? No need to write the sins of the Catholic Church in the dust; they're headline news.
The Jesuits who raised me taught me something else. They taught me that it's easy to have the courage of your convictions; what's hard is to have the courage to challenge those convictions. No Jesuit-educated student is going to be "confused" by encountering an eloquent speaker and writer who happens to entertain beliefs that may deviate from Church doctrine. If so, ask for a refund; the tuition is not cheap.
During my Jesuit education, I am proud to say that I studied Nietzsche (the guy who said, "God is Dead," also a fantastic writer), the Gnostic Gospels (the ones that didn't get picked for inclusion in the Bible), James Joyce (whose favorite hobby was mocking the Jesuits and the Catholic Church), and Ayn Rand (there is no God, only Capitalism). Being an impressionable young man I sometimes even succumbed and went for weeks wondering if I should follow God or Kurt Vonnegut. Norman Mailer spoke to us at Saint Louis University; I shudder to think how many sentences in his books are "in opposition to Catholic teaching."
If you are a religious order charged with educating young men and women about Catholic spirituality, do you want your students to hear Anne Lamott speak before or after they graduate? Do you want to engage them in intelligent conversations about these works, or would you rather have your students come upon eloquent "heresy" ten years after graduation and say, "Oh my, I just heard Anne Lamott speak, and I am so confused! Those crafty Jesuits hid Nietzsche from me, too!" Nor do I buy the argument that by hosting Ms. Lamott and paying her honorarium Creighton would have endorsed her controversial ideas, which is somehow different than endorsing academic freedom. Does the University pay its Jewish faculty a salary to teach Judaism? Does it therefore endorse Judaism and deny Christ?
I recently read Richard Dawkins' The God Delusion and Christopher Hitchens' God Is Not Great. Lucky for me, I found nothing in those books that I hadn't already encountered during my excellent education at the hands of the Jesuits. I haven't heard an original argument against the existence of God since I graduated from Saint Louis University in 1976, and frankly the Jesuits frame these ideas better than Messrs. Dawkins and Hitchens. Consequently, arguments against the existence of God hold no terrors for me; I still believe.
As I say, I don't know what made Creighton cancel Anne Lamott's appearance. All I know is that no Jesuit will ever be able to explain it to me.
Creighton University Disinvites Anne Lamott