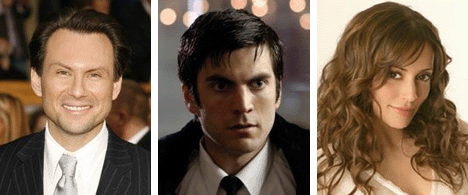 Principal photography commenced on Dolan's Cadillac in Regina, Saskatchewan on May 26th and finished in Las Vegas in mid-July. Shooting took place in Regina and Moose Jaw, Saskatchewan and Las Vegas, Nevada.
Currently, Dolan's is in post-production in Regina, Saskatchewan and Toronto. Nice summary here.
Anyone familiar with the Stephen King novella, Dolan's Cadillac (from Mr King's Nightmares And Dreamscapes collection), knows that the story belongs on the silver screen.
We are lucky to have Christian Slater, Wes Bentley, and Emmanuelle Vaugier playing the major roles. Jeff Beesley is a hot new Canadian director, working with Gerald Packer as director of photography. Screenplay by Richard Dooling, adapting Stephen King's story.
Produced by Film Bridge International and Mind's Eye Entertainment.
Christian Slater Is Jimmy Dolan